50 years of the Province of Slovenia
02/11/2022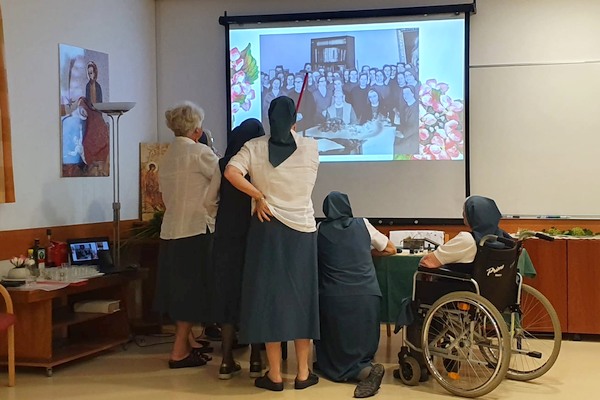 Ursulines in Slovenia celebrated their 50th anniversary of being an independent Slovenian Province.
In April 1702, five Ursulines arrived in Ljubljana by boat and founded a monastery and a school there. This was the beginning of the Ursuline presence in today's territory of Slovenia.
The historical background brought changes, so first we belonged to the Austro-Hungarian province, then to the Yugoslav province, and from 1972 we became an independent Slovenian province.
We commemorated this jubilee with old photos and stamps at the provincial conference on September 3, 2022. On Saturday, October 22, we went to a thanksgiving Mass to the national shrine of Mary in Brezje. We were joined by Croatian sisters and, of course, many pilgrims who also came to 'Mary of Help' that day.
| | |
| --- | --- |
| | |
| | |
| --- | --- |
| | |
"50 years is not a particularly long time, but if we think about the number of sisters who followed the Lord during these years: the committed apostolic activity; all the prayers, both common and those that arose from the depths of the heart; the silent service; the many experiences of the Paschal mysteries and so much experience of God's closeness, mercy and faithfulness. 50 years is no small thing. It is not possible to measure or weigh everything, but we can sense the spiritual wealth that has poured out through our deceased sisters and through us and is still pouring out into this world. Let me use the well-known thought of Pope Francis, who invites us to look at the past with gratitude, live the present with enthusiasm and embrace the future with hope."
(from the address of the provincial at the 2022 provincial conference)
sr Anka Kogelnik OSU