Celebration of first profession in Generalate
22/08/2023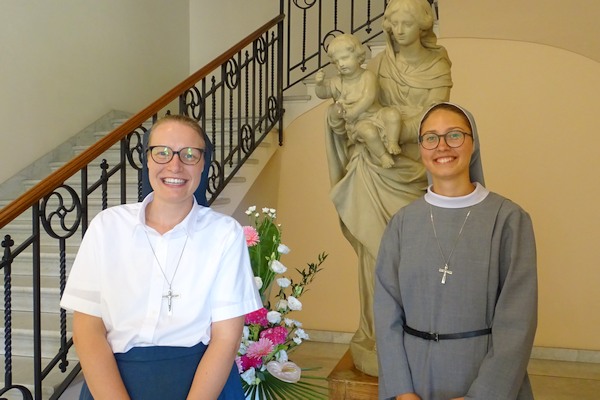 12 August 2023 was a very special day at our Generalate. Two sisters: Sr Marie-Amélie Desmeulles from France and Sr Viktoriia Perykasha from Ukraine made their first vows.
At the ceremony sisters from the General Council and from all the communities in the Generalate house as well as their two Provincial Prioresses, Sr. Iwona Skorupa, of the Polish Province, including the Ukraine and Sr Marie-Thérèse Le Goc, of the Province of France/Belgium/Spain and some sisters from their provinces. We also welcomed the presence of their family members and friends who had come to share this day of joy and thanksgiving.
The Sisters made their first profession at the end of their period of formation in the international novitiate in Rome. Sr Florence-Marie Le Garrec, Novice Mistress, had journeyed with them in the Novitiate over the last two years, helping God prepare them for this day.
The festive Mass was presided over by the Fr Chris Chaplin MSC. In his homily, he spoke about the essence of the life of a person consecrated to God. He said, among other things: "In religious profession we give voice to what our whole life points to and desires. We have found him whom our hearts desire and we should not want to let him go. And so we leave the past and we start a new life with Jesus. Saint Angela Merici would say, 'Lead a New Life' ".
The sisters received the crosses of the Ursulines of the Roman Union, veils and constitutions as a sign of their vows.
After the Eucharist, there were greetings and a shared lunch followed by a time of joyful recreation with dancing.
Dear Sisters, together with St. Angela, we pray that you will be blessed with joy and faithfulness: "Lead a New Life".