Contemplating our path
27/01/2020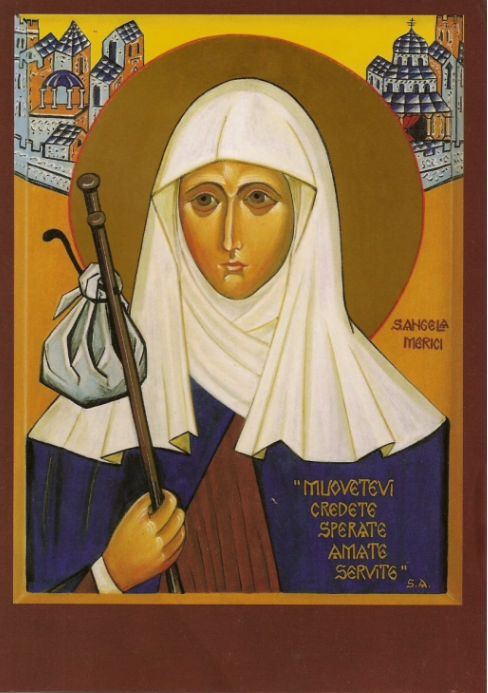 The journey of a thousand miles begins with a single step. (Lao Tzu)
It is a little over a month since the members of the new General Council joined with me to begin our work together here in Rome.
It is timely that this first circular coincides with our celebration of the Feast of Angela Merici. As we set out on this new phase of our life together as Ursulines of the Roman Union, we remember Angela as a pilgrim woman, as depicted in the accompanying familiar image, an icon written by Anna Rosa Porro osu.
As a pilgrim, Angela was on the move. We know that her life's journey led her from place to place, from home to home, around Desenzano, Salò, and Brescia. We know that she travelled to the Holy Land, and to Rome. As a woman on the move, she knew the essentials that she should carry with her, probably including some nourishment for the journey – all packed in a small sack. She had her pilgrim's staff for support along the way. With her eyes focused on the road ahead, she was resolute, clear about the way ahead, even if she was at times perhaps uncertain about where it might lead.
As we set out with our Road-Map from the General Chapter in hand, we, too, are challenged to be pilgrim women, like Angela. It is time for us to discern what is essential for our journey into the future, to seek out the support we need, to know how we will nourish ourselves and each other along the route. We encourage each other to focus on the road ahead, to be clear about the steps we need to take, even if we too may be uncertain about where they will lead.
In these early days of Ordinary Time in the Church's Liturgical Calendar, Mark's Gospel reminds us of the beginnings of Jesus' ministry. We see him moving from place to place, gathering his disciples, meeting with many different people, and responding to their needs. He was also setting out on the path that was opening up ahead of him. He was resolute and purposeful, not avoiding the challenges which he was already confronting, as he embarked on his journey to proclaim the Good News of a loving God.
Let us remember the wisdom we have from Angela as we embark on this journey together: 'Act, bestir yourselves, have faith, make efforts, have hope, cry aloud to God with all your heart; then, without doubt, you will see marvels.' (Prologue to the Counsels).
Our celebrations for Angela's feast will take many forms in our different places – a reflection of the richness of our global reality. One thing we share is that we have all been invited to a life of discipleship in the spirit of Angela, and that she will always point us to Jesus. Let us together be grateful for this as we take these next steps on the road ahead of us.

Thank You
Over the past weeks I have received many messages of support and encouragement, both personally and for us as a council. I am very grateful for these, and appreciate the fact that, across the Institute you think of us and pray for us. Please know that you are at the heart of the work that we are doing here in Rome. Let us continue to hold each other, our joys and our struggles, as we recognize signs of new, fresh life in our midst.
Sue Flood osu