Second week in Laredo
18/05/2021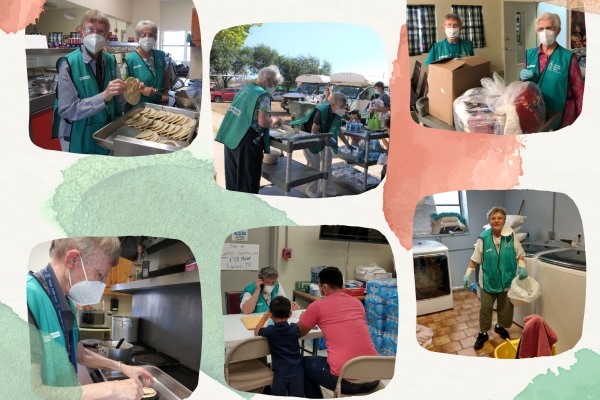 Experience with migrants in Laredo, Texas – second week, May 3rd - 8th, 2021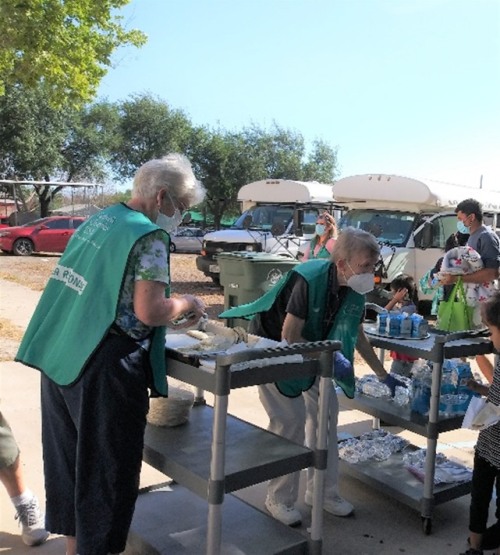 Carmelita Chagan, SRM & Karen Schwane, OSU
serving a meal to our guests.
Most of the Gospel readings for this week came from John 15 with the theme "… love one another as I love you" most prominent even today, Mother's Day.
We saw this love of Jesus every day in the care of staff and volunteers as well as in the migrants' care for one another. The need of one person was the need of all.
On arriving to "La Frontera" center they are first tested for COVID 19, then helped in filling out the necessary paperwork and finally they can take time to rest a bit, take some water, eat a simple but nutritious meal and begin the long process of making contact with their sponsor in the USA.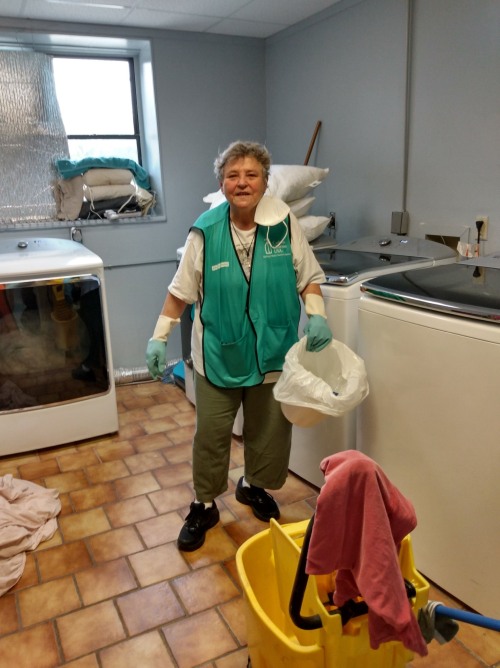 Maria Teresa de Llano, OSU
working in the Laundry room.
Meanwhile, those of us assisting our guests, help them obtain a clean set of clothes, a towel and toiletries for a shower, diapers and formula for the babies, clean sheets and pillow if they will be spending the night at the shelter. Meanwhile, the long hard process of helping each one with travel arrangements – contacting families by phone, ensuring a ticket to their destination and possibly some money for their trip, changing pesos they may have into dollars, etc. and most importantly making sure that they understand when they will be leaving and making sure they take the mini bus when it departs to the station.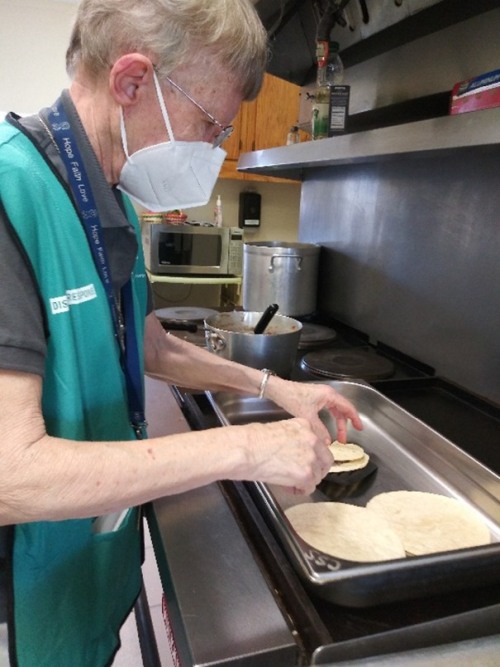 Karen Schwane, OSU
Preparing breakfast tacos.
This second week was a bit easier for us as we were staying in a different location and one that afforded us the pleasure and camaraderie to be with other religious coming as volunteers who were also staying at the same place. We met and worked with Mercy Sisters, Springfield Dominicans, Holy Spirit Sisters, and…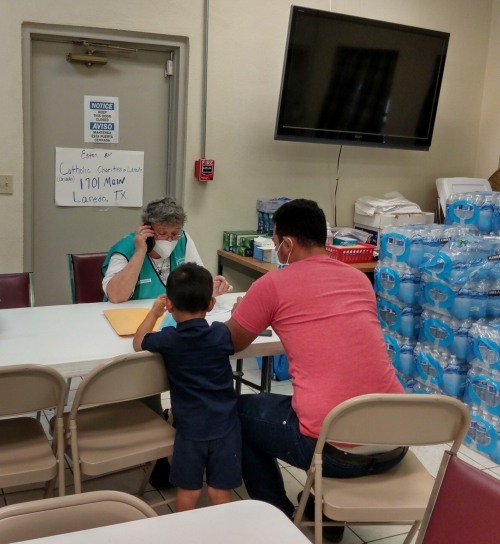 Maria Teresa de Llano, OSU
Helping a family to make
connections with their sponsors
Our days were filled with checking what food was available so as to prepare breakfast and lunch. Sometimes there were two of us in the kitchen, at times three or four depending on what was being served. We also washed dishes, pots and pans, put them in the proper location, cleaned the fridge, sanitized tables and places where food was being prepared.
Karen Schwane, OSU
and Carmelita Chagan, SRM
Receiving donations from a benefactor.
In-between meals we helped where we were needed – washing the sheets, pillows and blankets that were
used; sorting and organizing the little clothing "store"; packets with a small towel and hygiene products for a shower; making snack packs for those who will be traveling longer distances; preparing bags with diapers and wipes for those who have children and making sure they have formula in powder for the babies in the family.
We also took a couple of travelers to get the travel money sent to them by the host family, change pesos into dollars and finally to the bus station for their final leg of their journey.
We did do some shopping and bought diapers and fruit juices for the children.
Maria Teresa and Karen