100 years of the Ursuline Sisters of the Roman Union in Siercza, Poland
08/06/2021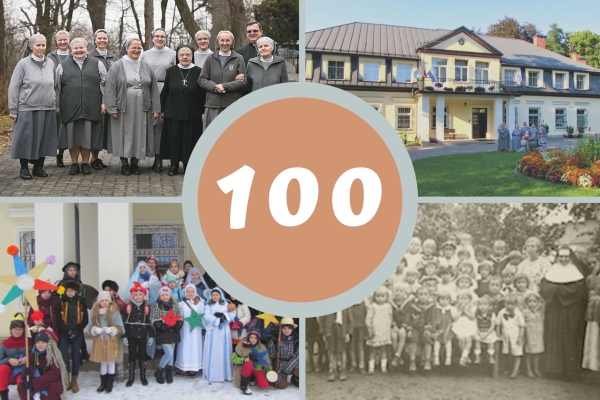 This year around 100 years have passed since the Ursuline sisters arrived in the small village of Siercza, near Krakow in Poland. The sisters are very well known in this place due to the kindergarten they run. The community is also strongly involved in the life of the parish. In 1998, the parish of Our Lady of Czestochowa was established in the sisters' chapel, which served the local people.
History:
The kindergarten was established in 1933 for the children of the employees of the farm belonging to the monastery. The community in Siercza originally had a farm which also produced food for the large Ursuline community and school in Krakow. However, every year there were more and more children from village in the kindergarten. The day care centre, for about 80 children, was free of charge, and the sisters provided the children with one hot meal a day.
After the war the kindergarten was reopened, but this time under the care of Caritas. When in 1950, due to the communist regime, private property was nationalised, the land and most of the farm buildings were taken away from the sisters, leaving less than two hectares of land, the convent and one building in the courtyard. However, the sisters were allowed to continue running the nursery until, in 1953, the building was occupied and the children had to move into the convent. The kindergarten was very important for the local people. So much so, that when the building was taken away from the sisters, people hung obituaries on its windows. After a few years, the building was recovered, but in 1962 the kindergarten was closed for good.
A new chapter in the Ursuline history began in 1989, when sisters recovered part of the property taken away after the war. The kindergarten was reactivated in 1991 and currently there are 100 children attending it.
________________________________
We regret very much that this year we will not be able to enjoy our feast together with the inhabitants of Siercza and the community. But this does not mean that the celebrations will not take place. For a hundred years we have grown very strongly in the local reality of life. Siercza and the surrounding area is a wonderful place, full of warm people who are close to us. We are also surrounded by beautiful landscapes, which add a special flavour to everyday life. The ministries that we run here, the kindergarten and the pastoral care at the parish, are working well, which makes us especially happy. We hope that this place will continue to be a support for the local community.To celebrate this anniversary, on March 20, 2021, a Holy Mass was held in our chapel, which a very small group celebrated due to the epidemic situation. The Mass was presided over by our parish priest, Fr Jan Lesniak. After the Holy Mass a small informal meeting was held.