Companions on the Journey…
08/07/2021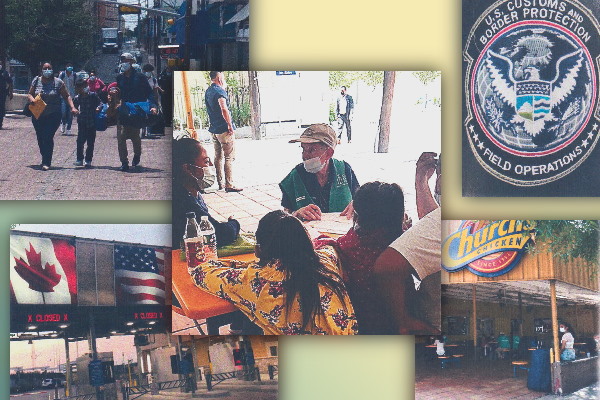 Week Five, June 20th – 26th, 2021
I would like to share with you an experience I had during my fifth week of volunteering at the border in Laredo. On Wednesday, June 23, at 11:30 am two other volunteers (Clare and Mary) and I went to a location near the border crossing to wait and receive newly arriving migrants being escorted by U.S. Customs and Border Protection Agents.
We were situated at a Church's (a Fried Chicken Restaurant chain) which permitted us to use the outdoor seating area to interview the new migrants away from the hot sun. As we waited, we shared of how the experience of our service in Laredo had inspired and changed our lives, our prayer, and our awareness of what migrants had to endure during their long journey.
We caught sight of a small group accompanied by U.S. Customs and Border Protection Agents. Mary took the first family to a nearby table and I took the second - a young mother with 3 children: a son 14, and 2 daughters, 10 and 3. I checked their documents, copied file #'s, and wrote down the name and phone # of her relative who would be driving from Houston to pick them up (approx. 350 miles). I thought to myself, how good of him to do that, and explained to her that it would take about 5 hours. She nodded with assurance. They had just spoken and he was on his way. I gave her a sheet of paper with a map and pointed out our location and where we would all go to have lunch at La Frontera (Catholic Charities Center) and relax while they waited.
There was a second sheet of paper with helpful phrases in Spanish and English that I read with the son and he repeated with good pronunciation in English. I returned the documents to the mother which she carefully placed in a special envelope. She looked at me and intentionally stated she was not illegal. I nodded to her and remarked with a smile that those papers prove that she has permission to be here.
The Catholic Charities mini bus arrived to take us to La Frontera Center for lunch. The three of us, Mary, Clare and I joined the other volunteers in the dining area.
About an hour after our arrival at the center, Clare returned to the dining room and told me that "my young mother" had shared her very sad story. Their family was at home when some men banged on the door, broke in and took her husband away. A few days later he was found dead. He had been shot. His wrists were bound and there was evidence that he had been tortured. This young wife was taken to see his body and given photos as proof to witness to the horrors that they faced.
I was deeply shaken by her story and immediately had to find her, embrace her and express my deep regret and sorrow for what she and her children had been through. She shed tears even while expressing gratitude for the good people who helped her and also expressed gratitude to God for supporting her in these terrible events.
Karen Schwane, OSU
June 23, 2021