Two new sisters in the European Novitiate in Rome
13/09/2021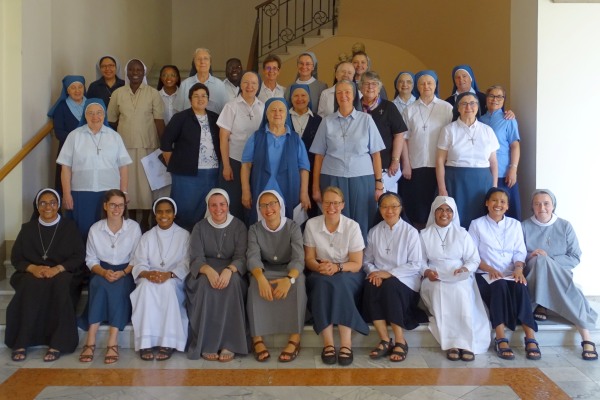 Here I am, Lord, Is it I, Lord?
I have heard you calling in the night.
I will go, Lord, if You lead me,
I will hold Your people in my heart.
On Saturday, 4 September 2021, on the feast of Our Lady of Consolation the communities of the Generalate celebrated joyfully the entrance of two new sisters into the European Novitiate.
During the morning Mass, medals of St Angela and St Ursula, which the novices would wear, were blessed, as well as their religious dress, which will remind the sisters every day that they want to belong to Christ.
A few hours later, in the chapel, in the presence of Sr Marie Thérèse Le Goc, Provincial Prioress of France/Belgium/Spain and Sr Wioletta Adamczak, delegate of Sr Iwona Skorupa, Provincial Prioress of Poland and our international community, the rite of entrance to the novitiate of Sr. Marie Amélie from the Province of France/Belgium/Spain and Sr. Viktoriia from the Province of Poland took place. The sisters expressed their desire to share their lives with us - to follow Christ on the path of the evangelical counsels in our Institute and after the liturgy of the Word they received medals, the Constitutions and the Writings of St. Angela.
May our prayers support both sisters on the way they have chosen! May Jesus be their only treasure!