Marian Academy Commemorated World Peace Day
11/10/2021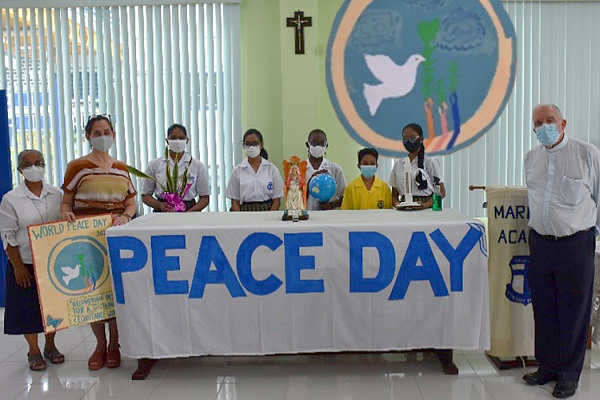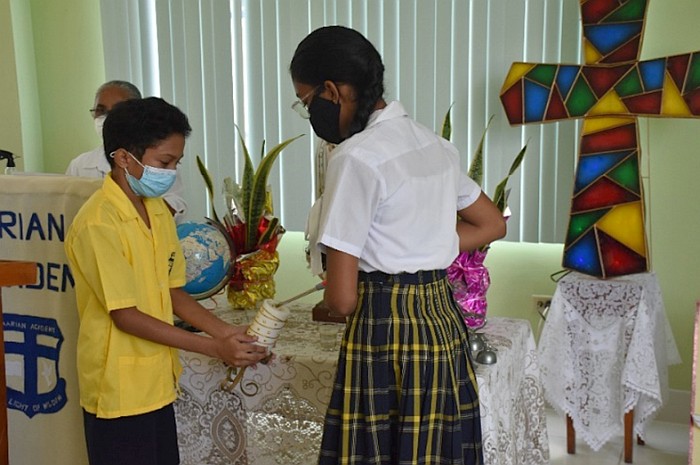 World Peace Day 2021, 21 September, was observed at Marian Academy in Georgetown, Guyana under the United Nations theme "Recovering better for an equitable and sustainable world".
During the ceremony the peace candle was lit, by Anya and Dominic Loaknaught, reminding us that Jesus is our light who guides our feet in the way of peace. The opening prayer by Bishop Francis Alleyne, OSB called for a world where different races and cultures live in harmony and mutual respect, a world where peace is built with justice, and justice is guided by love. Bishop Francis in his peace message highlighted the theme given by Pope Francis for the World Day of Peace on January 1. The theme calls for us to build a culture of care as a path to peace, if we care we will obtain a more equal, just, equitable, conclusive, sustainable, healthy world.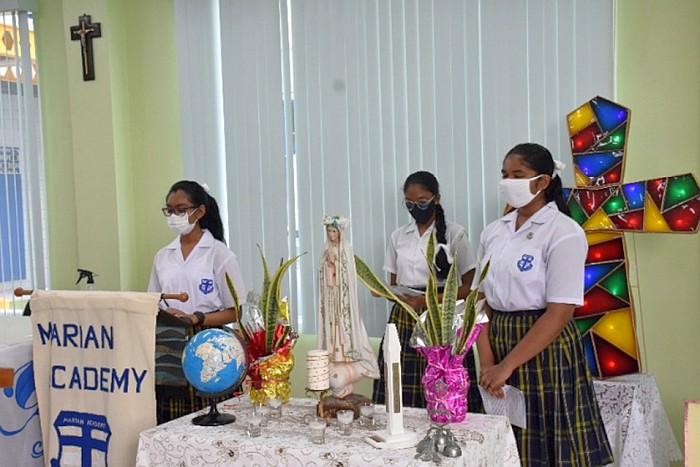 The Bishop commended Marian Academy for having an admirable tradition of ongoing conversation concerning creation and the environment.
In the introduction done by Renika Anand, she implored us to strive for equality in the way we treat one another especially in this pandemic. She also urged us to have a compassionate and caring heart which will eventually turn us into individuals who will care for one another and "Our Common Home".
UN resident coordinator to Guyana Mrs Yesim Oruc in her peace message expressed the hope she feels to be among students of such eloquence, intelligence and who are critical thinkers with skills to over come the challenges we are facing in this pandemic. Mrs Oruc urges us to find our peace and bequeath it to others.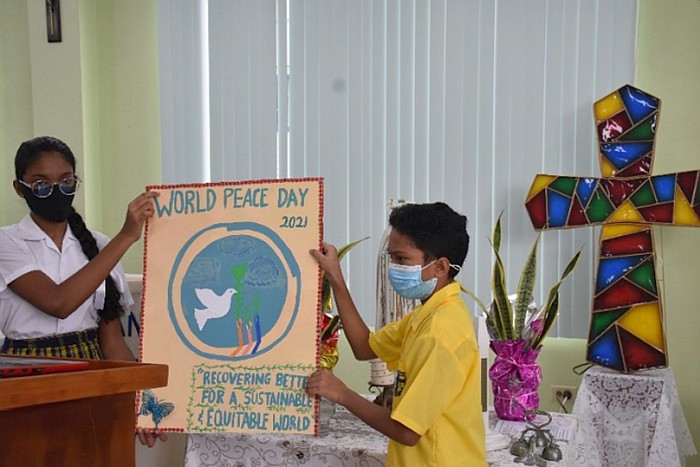 Prayers for peace were offered by Seemerah Tularam, Anya Loaknauth and Renika Anand and one minute of silence for world peace was observed followed by the ringing of the peace bell.
In the concluding prayer we prayed for the vision to see and the faith to believe in a world emancipated from violence, a new world where fear shall no longer lead people to commit injustice, nor selfishness make them bring suffering to others.
The Peace Day ceremony was live streamed via Microsoft Teams since teaching and learning for the academic year 2021-2022 continues online.
by Sister Shelly Jhetoo, O.S.U.