New Ursuline books
05/11/2021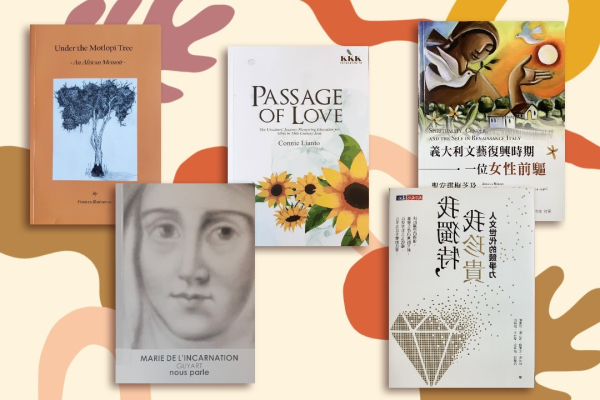 New books on Ursuline history and spirituality have recently been published.
• 'Passage of Love: The Ursulines' journey pioneering Education for girls in 19th Century Java by Connie Lianto, a former Ursuline student and a history lover, in Indonesia.

"It was early February in 1856 that history recorded the arrival of the seven women in black robe in Batavia. They were indeed the Ursuline nuns from the Netherlands, the first female missionaries in the Dutch East Indies colony. Those pioneers willingly left their homeland and put their life in high risk through an adventurous voyage, which took months crossing ferocious ocean. It was such a sacrifice that they started up missionary work in the mission land, especially education for girls. Nowdays, we are still able to see and feel the result and effect of what they have started and done, written in the golden ink in the history of Catholic Education in Indonesia."

• A book has been written to celebrate the 55th anniversary of the foundation of Wenzao Ursuline University of Foreign Languages in Taiwan. On 30 September 2021, Sr Cecilia Wang was present at a book launch in Taipei. It's the story of 16 alumni of the University.

• At the same event there was also the launch of the Chinese translation of Querciolo Mazzoni's book Spirituality, Gender and the Self in Renaissance Italy – Angela Merici and the Company of St Ursula.

• Under the Motlopi Tree – An African Memoir - by Frances Boston osu (Australia).

"On completing my training as a teacher and initiation into Religious life as an Ursuline Sister I was missioned to Africa… finally settling in Botswana, slowly immersing myself into the local culture… Returning to Australia forty-six years later my memoirs recount this journey of places, people, and unique experiences, rich in challenges, woven with both highs and lows, joys and sorrows but most of all my bonding with a people."

• Marie de l'Incarnation Guyart nous parle (Eng. Mary of the Incarnation Guyart speaks to us) by Mary of the Incarnation Centre, Tour in France. The topical selection of quotations from the writings of Mary of the Incarnation.

"The quotes in this book are spiritually life-giving. Savoured in small doses, they can awaken our deepest aspirations and lead us to commit ourselves coherently to the relationship with Christ. As the fruit of personal experience, they become precious testimonies or advice for the spiritual life".