Jubilee of 85 years of the arrival of the Ursuline Sisters in Peru
16/11/2021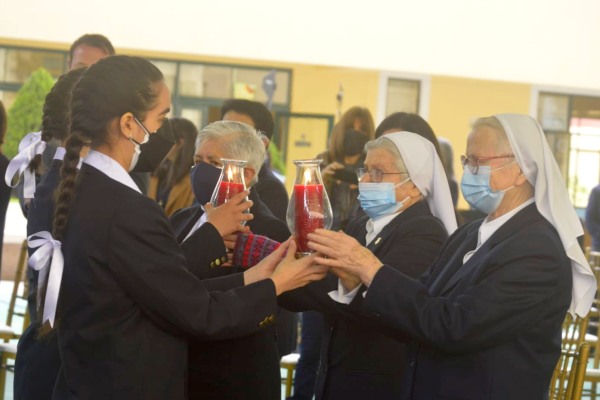 On the feast of St Ursula, 21 October, the jubilee celebration of 85 years of the arrival of the Ursulines in Peru and the foundation of Colegio Santa Úrsula in Lima was held.
Participation in the celebration was limited due to the pandemic. But even so, the hall near the school was quite full of invited guests, including the Apostolic Nuncio to Peru - Msgr. Nicola Girasoli, the representative from the German Embassy, teachers, representatives of the student community and Ursuline sisters. The rest of the students and staff participated in an online meeting.
During the Mass in the procession a beautiful cross made of flowers was carried, a symbol of the beauty that has come out of the school by educating the leaders of the Peruvian community. The girls who graduate from our school are well educated and have the opportunity to get a good job.
In the photos, you can also see the two baskets in which food was collected for donation. It was a symbolic place because the College has been supporting St Joseph's School in Miramar since the beginning. The students bring a kilo of food every month to support their colleagues who are in a worse economic situation.
The Colegio Santa Úrsula was founded by Ursuline sisters who came from the Fritzlar community in Germany in 1936. They were invited to take care of girls from German families who had fled their homeland for political reasons - from Nazism. Up to now, there are still sisters - Sr Pia and Sr Erika, who came to Peru on a ship. The journey took a whole month.