Gratitude to Sr Maria-José
15/03/2022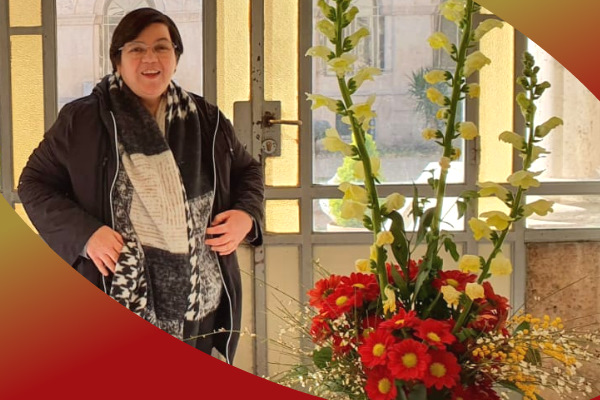 Each Ursuline sister visiting Rome will surely remember the smile of Sr Maria-José, who served as local prioress at the Generalate since 2015. She has finished her ministry and returned to her Province in Brazil in mid-February.
Before that we wanted to have the opportunity to thank her for the generous and joyful service she offered in the Generalate House. Her function was very demanding because the Generalate is an international community, a place where the General Council stays and a welcoming house for tertianships, meetings and all our sisters from all over the world and many guests. Sr Maria-José was also involved in all kinds of assistance to the sisters in dealing with official matters. It is also important to mention her dedication to helping the refugees who, in collaboration with Sant'Egidio, have been hosted in our house.
A farewell meeting with staff took place on 11 February in the house. On Saturday 12 February we had a farewell celebration for Sr Maria-José with all the sisters now present at the Generalate. At 11.15 a.m. we prayed for her during a thanksgiving Mass together. In the chapel we were accompanied by a statue of Our Lady of Aparecida and symbols of Brazil. The procession with the gifts was also symbolic, expressing thanks to God for her service in the Generalate. This was followed by aperitivo and a festive lunch. We were happy that the international tertians and the novitiate could also be with us.
After the meal together there was time for recreation. We had a quiz on the knowledge of the Generalate house - because we know that she knows every corner of the house. We all then contributed to form a bouquet of flowers and a symbolic bouquet of good wishes for Sr Maria José for the road. It was words of thanks, gratitude or good wishes for her in warm and happy colours.