Visit of students from Wilmington, USA
22/03/2022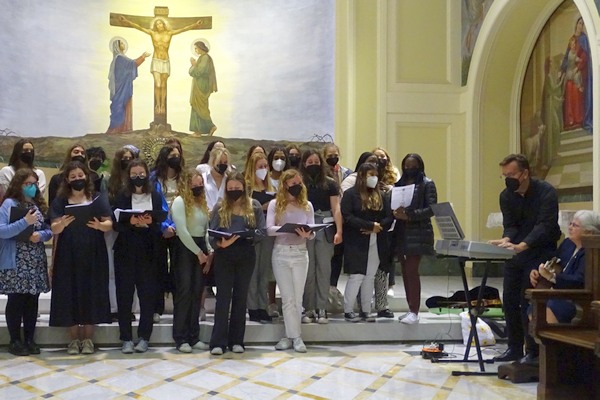 On Wednesday 16 March, towards the end of the afternoon we welcomed to our house a group of senior students and four of their teachers from Ursuline Academy, Wilmington, USA who had been visiting Italy and had arrived in Rome the day before.

In our chapel, they treated us, to a very beautiful liturgy which had been prepared on the theme of peace for our world and especially for Ukraine and the girls who formed the choir accompanied the prayer.
The choir then sang a selection of songs including "Insieme – together", which we were delighted to hear and is a song that is very familiar and loved by the Ursuline schools and communities around the world.
After some refreshments the girls had the opportunity to visit our house.
It is always a great pleasure to welcome groups of students from our schools who are visiting Rome and the visit from the students in Wilmington was particularly special for us as it was the first group of students to visit since the Covid pandemic.