Peruvian Angela
10/06/2022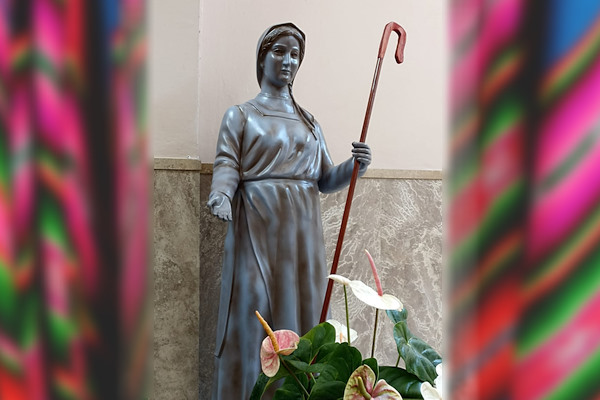 Arrival of the statue of Saint Angela to the Ursuline community in Peru
In celebrating 85 years of the Ursulines arrival in Peru, our community showed the desire to have a statue of Saint Angela made: in such a way that Angela is more present among us and with our girls and young people from the School and the educational community.
It was not possible to have it for October 21, 2021, because the sculptor fell ill with Covid-19. This is how the delivery was delayed. However, she wanted it to arrive on May 24, 2022, the date on which we remember the 215 years of St Angela's canonization. Our Ursuline community saw in this a sign to remember: "especially on feast days visit your dear daughters and sisters… greet them, comfort them, encourage them to remain constant in the life they have begun." (St Angela, V Council 1.2.)
This was a clear sign of her presence, so we organized a blessing of the statue to place her in our schools. On May 25, it was placed in the San José school, thanking God for the 60th anniversary of its foundation, and on May 27 it was placed in Santa Ursula, for the 85th anniversary of the foundation of the school. We give thanks to God!
Sr Rosana Villegas Argumedo OSU
Also on May 28th there was the 30th anniversary of the foundation of the Ursuline Lay Associates in Peru. It began in 1992 and continues to this day with the advice and guidance of sr Erika and sr Maria, Ursulines who accompanied more than 30 women, who renew their promises to live year after year with the advice of our foundress St. Angela. (The group in one picture.)