UISG Programme for Formators
13/06/2022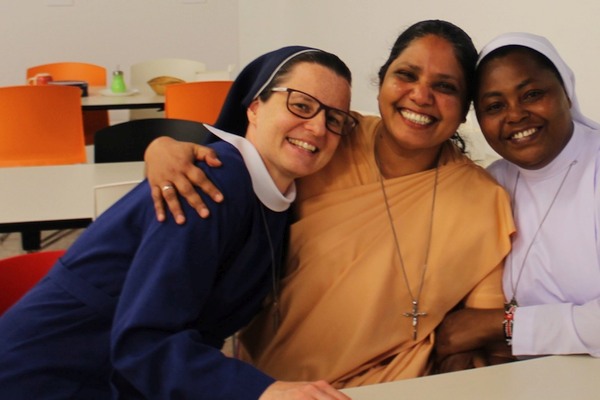 The International Union of Superiors General (UISG) provides in Rome a course for the preparation of sisters who will become formators. This year it was held for the third time. Some Ursulines also participated in this course and you can find below their sharing about it.
The Intercultural Day is a special moment of the Formators Programme. This year participants celebrated the cultural diversity in Sinodality. Sisters from communities were also invited to this joyful meeting and you can also find below some pictures from this event.
• • •
From January to the end of June I was given the grace to be part of the Programme for the Preparation of Formators 2022. It is a Programme for Women Formators organised by UISG, which aims to provide various tools and resources to help participants obtain and fortify specific and soft skills that will be useful to sisters who will be working in formation.
The programme coordinator was Sr. Cynthia Reyes, SRA, the assistant coordinator Sr. Toni Longo, ASC and the executive secretary Sr. Patricia Murray, IBVM.
This program hosted 45 sisters from 22 different countries and was available in English.
The themes explored were:
-self-awareness on a physical and psychological level
-multicultural and international experiences and contexts
-biblical and theological preparation
-from first profession to perpetual vows
-vocation and spirituality in consecrated life
-how to become a good formator for tomorrow
There were also numerous spaces and moments devoted to personal reflection, practical work, interaction and sharing, and human and spiritual growth.
I very much appreciated the quality and well-adjusted programme and most of all I appreciated the relationships with the other participants of the course, our friendship, sharing and support.
You can find out more about our programme in this interview ►
sr Maria Tothova, OSU
Slovak province
• • •
The UISG Programme for Formators is an integrated programme which is part of ongoing formation. I feel renewed, blessed, enriched by all that I received from this formation. There is a call to deepen the relationship with God, one another and nature.
I understood anew that kindness, compassion, availability, understanding are necessary in journeying with those drawn by God to His vineyard.
sr Kevina Ekal OSU
Kenia group
• • •
I joined the formators course at UISG from February until June 2019 and I had a beautiful experience. In total 33 sisters participated, coming from 25 countries, and 23 congregations in three continents: Europe, Africa, and Asia. I received many graces from this course and the materials received from the speakers were helpful for me to accompany my formees.
We had an eight day retreat held at the SVD retreat house in Nemi. it was helpful for us to go deeper and be rooted in spirituality and become closer with God. Each month we also had the opportunity to share our spiritual experience with our spiritual director as we were divided into small groups and each group was allocated a spiritual director.
This course was not only a formators preparation but was a renewal for me in my vocation and apostolate but especially in formation. It also helped me to prepare and to answer the needs in formation ministry and to transform my life as a formator. I learnt about the cultures from sisters from other congregations and we had a culture day where we were able to cook our special food from our country and present a performance about our culture.
During our course we were also able to share and discuss what we learnt from our experience of accompanying formees. Towards the end of the course, we visited the SSpS Novitiate and they shared their experience and their formator also shared her experience. Three international novitiates in Rome came together once a week and so they had the opportunity to study and learn together.
sr Veronika Rina, OSU
Indonesian province