Sr Maria celebrates her 105th birthday
12/12/2022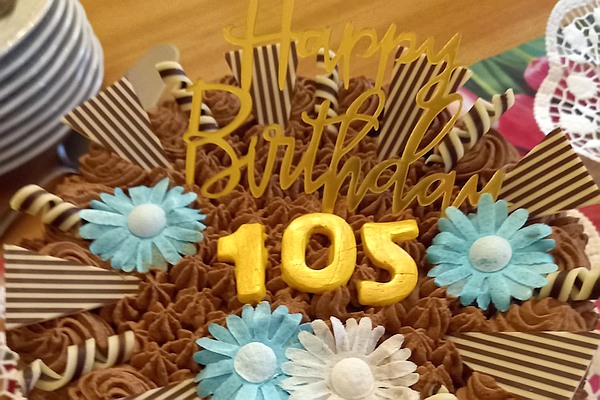 On 7th of December 2022 Sr. Maria Nopp from Klagenfurt, Austria, Slovenian Province of Ursulines, celebrates her 105th birthday. On the eve of the feast, the first to congratulate her had already arrived, her family - nephew Manfred and wife - contacted Sr Maria via Zoom, who was delighted with this opportunity.
A table overflowing with flowers and gifts awaited Sr Maria for breakfast on her birthday. At 11.00 a.m. a small celebration took place in the Angela Chapel to which children, teachers and educators from the kindergarten, after-school care centre, primary school and secondary school had been invited. The programme included poems, songs, music and solo singing, accompanied by heartfelt congratulations and even more flowers for the "birthday girl". (One young flautist was the granddaughter of one of Sr Maria's flute students – many years ago!) Each one who congratulated her, was able to collect a sweet as a "thank you" from Sr Maria at the end.
The birthday celebration ended with a solemn Mass in the Sisters' Chapel, which was also attended by Mrs. Dir. Schuller and Dir. Huber, as representatives of the whole school community.
The next well-wishers arrived for lunch, all the nurses and also Rector Kattnik, who was able to stay for lunch and share Sr. Maria's joy and the favourite dish she ordered for her birthday.
The day was not over yet, as the mayor of the city of Klagenfurt came with his daughter and a representative of the city to personally offer their congratulations. A big basket full of the healthiest fruits should give Sr Maria enough vitamins and strength, so that he can come back next year to celebrate with her again.
The first Vespers of the Solemnity of the Immaculate Conception of the Blessed Virgin Mary and a quiet dinner concluded the full day for Sr. Maria and for us. An impression of the celebration could then be seen on the ORF Carinthia News, showing that Sr Maria, though somewhat weak physically, is still very fit mentally, with a lot of humour and full of joy. May God bless her every day anew!
Sr. Marina Zittera OSU
Links:
Älteste Ordensfrau Kärntens feiert 105. Geburtstag
ORF Carinthia News, 7 december, 8.50 - 9.25 min