English Workshops in Indonesia
23/01/2023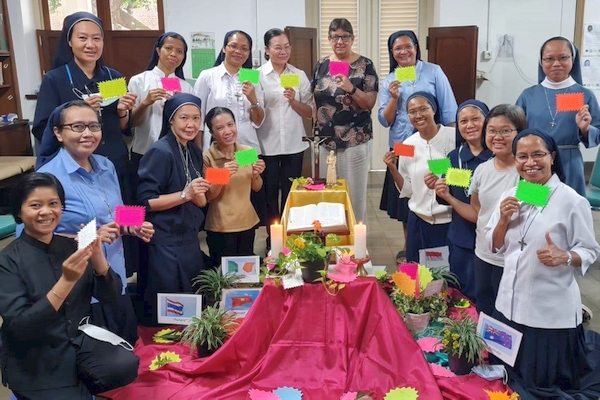 English Workshops for sisters from Asia were held in Indonesia on July 8 – 24, 2022. The teachers, Sr. Lee Veriga from Australia and Sr. Anne-Marie Dixon from Ireland wanted to help improve the English proficiency of the Ursuline Sisters from this area.
The course started with an online workshop via Zoom in 2020 because of the Covid-19 pandemic. It was only after two years that they managed to realize the project and meet. This event was attended by sisters from 3 countries: Vietnam, Indonesia and Thailand. The program took place at Santa Ursula Community in Jakarta.
During the two week workshops program, the sisters were able to practise speaking, listening, reading and writing in English. There was also time to share their cultures and traditions. Several field trips were part of the program. Before each trip there was time given to preparation, explaining the history of the place, the vocabularies and the principles of how to write a story.
Visits included picnicking at Taman Lapangan Banteng, the old market of Pasar Baru, Sea World Ancol, one of the largest mosques in Southeast Asia: the Istiqlal Mosque. They saw the Geraja Santa Maria Cathedral opposite the mosque, the most beautiful cathedral in Indonesia and had the chance to visit a replica of St. Angela's house, in Bandung.
The group also visited various communities and schools of belonging to the Ursuline Sisters and were able to celebrate the 60th anniversary of Sister Marta at Santa Ursula Community.
Some participants' impressions:
• I appreciated both sisters - teachers for their patience and hard work in understanding our English
• I liked the style and teaching technique of both Sisters
• I learned more about their culture, seeing the compassion of the Sisters for one another
• The atmosphere in the workshop was filled with fun and laughter.
• I experienced being together with other Ursulines of the Roman Union.
• I appreciated the Sisters in Indonesia for giving me and every one of us such a warm welcome.
based on articles from the bulletin of the Ursulines of Thailand "AQUA 2022"