Coffee with St. Angela and sharing of experience
16/07/2023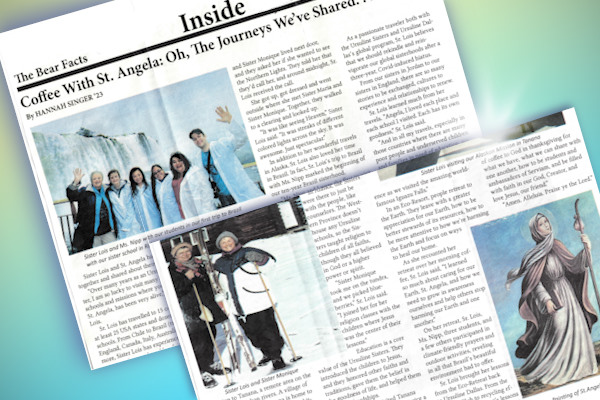 Article from "The Bear Facts" The School Newspaper of the Ursuline Academy of Dallas, Texas in which Sr Lois Castillon from USA Central Province, interviewed by students, shares her life experience of meetings, journeys, Serviam, ecological focus… in the spirit of St Angela.
Coffee With St. Angela: Oh, The Journeys We've Shared…
By HANNAH SINGER '23
("The Bear Facts", November 2022)
Sister Lois and St. Angela had coffee together and shared about their travels.
"Over many years as an Ursuline Sister, I am so lucky to visit many Ursuline schools and missions where your spirit, St. Angela, has been very alive," said Sr. Lois.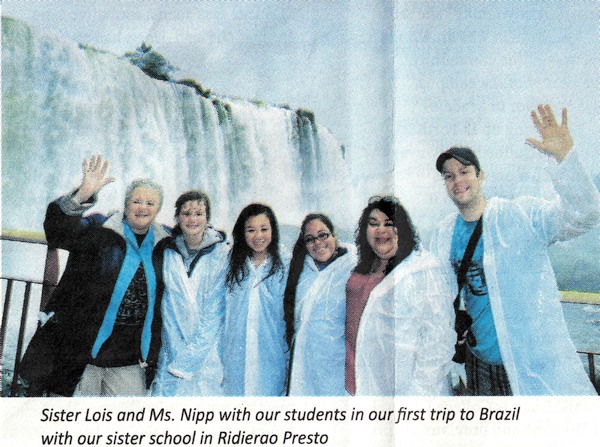 Sr. Lois has travelled to 15 countries, at least 25 USA states and dozens of schools. From Chile to Brazil (twice!) to England, Canada, Italy, Australia, and more, Sister Lois has experienced numerous cultures, shared her faith with others, and explored new parts of our world.
Two of her favourite places she would love to see again are Alaska and Brazil. Sr. Lois visited Alaska several times, joining other Ursuline Sisters in their mission in Tanana, a remote area on the Tanana and Yukon rivers. A village of roughly 200 people, Tanana is home to the Athabascans, the original inhabitants of interior Alaska.
But what brought her to Alaska in the first place?
First, some background on the Ursuline Sisters. The Ursuline Sisters of the Roman Union are located across 40 countries across the world. Within each country are regions, or provinces.
There are Ursulines in several states in the U.S. The Ursulines in the U.S. are divided into three provinces —Central, East and West. The Central Province includes Sisters from Texas, Louisiana, Missouri, Illinois, Massachusetts and Maine.
At the time, Sr. Lois was a member of the Central Province — just like she is today. She was asked to be a leader of the West Province, which includes Alaska, Montana, Idaho and California. As she pursued her doctorate from the University of San Francisco, she visited the Sisters in the four western states, especially Alaska.
Her journey to Alaska was certainly not a short one. She flew out of San Francisco to Seattle, took a flight from Seattle to Fairbanks, and finally took a two-prop plane to Tanana.
In Alaska, the Sisters were there to just be with the people, like counselors. The Western Province doesn't have any Ursuline schools, so the Sisters taught religion to children of all faiths, though they all believed in God or a higher power or spirit.
"Sister Monique took me on the tundra, and we picked blueberries," Sr. Lois said. "I joined her for her religion classes with the children where Jesus was the centre of their lessons."
Education is a core value of the Ursuline Sisters. They introduced the children to Jesus, and they honoured other faiths and traditions, gave them the belief in the goodness of life, and helped them with any hardships.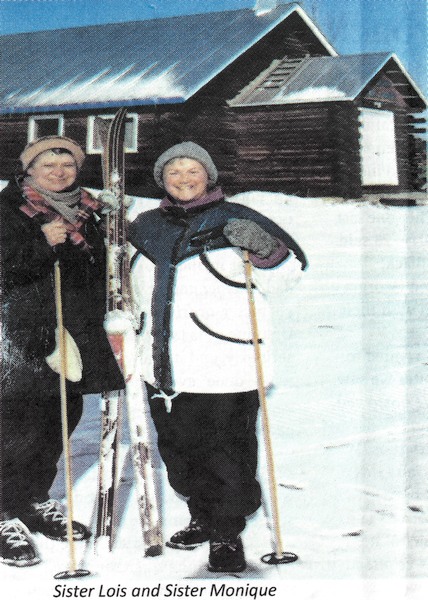 Sr. Lois usually visited Tanana for 3-5 days and tried to visit twice a year. There was one time, however, that she stayed for one week.
Sr. Lois stayed in a side room—complete with running water—off the wooden church. Sister Maria and Sister Monique lived next door, and they asked her if she wanted to see the Northern Lights. They told her that they'd call her, and around midnight, Sr. Lois received the call.
She got up, got dressed and went outside where she met Sister Maria and Sister Monique. Together, they walked to a clearing and looked up.
"It was like seeing Heaven," Sister Lois said. "It was streaks of different coloured lights across the sky. It was awesome. Just spectacular."
In addition to her wonderful travels in Alaska, Sr. Lois also loved her time in Brazil. In fact, Sr. Lois's trip to Brazil with Ms. Nipp marked the beginning of our ten-year Brazil sisterhood.
"Ms. Nipp and I were the first to visit Brazil and participate in an Eco-Retreat workshop with three of our students, as well as students from "Santa Ursula in Ribeirao Preto, Brazil," Sr. Lois said. "The photo shows a once in a lifetime experience as we visited the amazing world-famous Iguazu Falls."
In an Eco-Resort, people retreat to the Earth. They leave with a greater appreciation for our Earth, how to be better stewards of its resources, how to be more attentive to how we're harming the Earth and focus on ways to heal our home.
As she recounted her retreat over her morning coffee, Sr. Lois said, "I learned so much about caring for our Earth, St. Angela, and how we need to grow in awareness ourselves and help others stop harming our Earth and one another."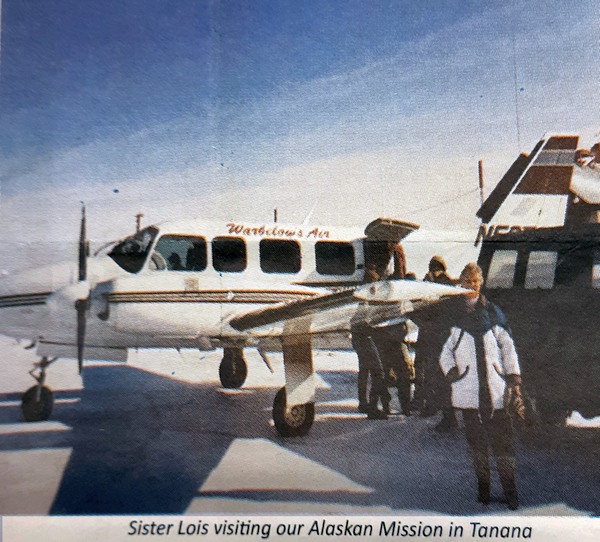 On her retreat, Sr. Lois, Ms. Nipp, three students, and a few others participated in climate-friendly prayers and outdoor activities, revelling in all that Brazil's beautiful environment had to offer.
Sr. Lois brought her lessons from the Eco-Retreat back to Ursuline Dallas. From the Ecology Club to recycling efforts, the Eco-Retreat's lessons about caring for our planet are apparent around the academy.
As a passionate traveller both with the Ursuline Sisters and Ursuline Dallas's global programme, Sr. Lois believes that we should rekindle and reinvigorate our global sisterhoods after a three-year, Covid-induced hiatus.
From our sisters in Jordan to our sisters in England, there are so many stories to be exchanged, cultures to experience and relationships to renew.
Sr. Lois learned much from her travels. "Angela, I loved each place and each school I visited. Each has its own goodness," Sr. Lois said.
"And in all my travels, especially in those countries where there are many poor people and underserved children and families in need of education, my desire to spread your spirit of peace and hope and love is what I will try to do with all I meet."
As their coffee ended, Sr. Lois said, "So now, dear Angela, we lift our cups of coffee to God in thanksgiving for what we have, what we can share with one another, how to be students and ambassadors of Serviam, and be filled with faith in our God, Creator, and love Jesus, our friend."
"Amen. Alleluia. Praise ye the Lord."