Silver jubilees in Kenya
27/06/2023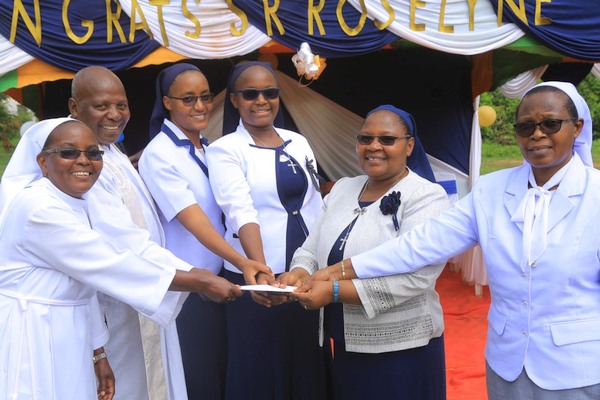 Jubilee – A time for going back to our roots.
23rd of May is a very special day for two sisters in Kenya. But 23rd May, 2023 was the climax of many other similar days: It marked 25 years of Religious Profession for Srs. Roselyne and Alice.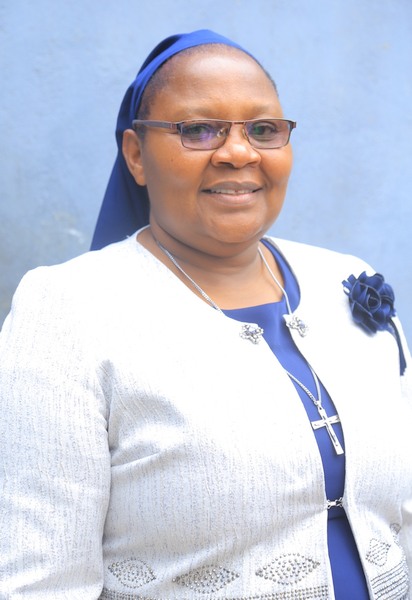 On 29th April 2023, as the above saying indicates, this time Sr. Roselyne took the celebration to her own village to crown the year with a village celebration. Back to her roots.
It was a unique kind of celebration because many had attended first or final profession, witnessed ordinations of diocesan priests, but jubilees are usually celebrated a long way from the village. So everybody was eager to witness the occasion. All roads on this day led to St. Peters catholic church Kabaa – an outstation of Boma parish in Kitui Diocese. People travelled from far and near, even as far as Kitale some 500km from Kitui to come and witness a rare yet very important occasion - The jubilee.
The mass was celebrated by Fr. Byron Paul Mathenge, a diocesan priest from Boma parish and the first priest from the Kabaa outstation. His long homily blended with humour kept the audience awake and alert. Even those who did not understand Kamba language couldn't help joining in the joyful laughter which filled the air.
Emphasising the importance of the vocation to religious life in the church was a motive to promote vocations. In his homily, He stated that such celebrations are also therapeutic ways for people to release their stress by singing and dancing.
Others present were the clergy and religious from the diocese. Also in attendance were The Ursuline sisters who came in large numbers to support Sr. Roselyne. The communities in Kitui spent most of the week preparing the liturgical dancers and the choir, working on the reception hall, decorations etc.
After Mass it was time for the gift presentation and celebratory meal, Kenyan style. – "No hurry". Mitchell Kilunda, a girl aged 10, moved the congregation with her poem on SILVER ROSES.
And I hereby conclude with the poem.
Sr. Roselyne Kasyoka OSU

SILVER ROSES
I register my presence as Mitchell Kilunda
Celebrating our own, from Kabaa station
A simple girl you lived among us
Yet God had a purpose for you,
A mission to fulfill
Sr. Roselyne Kasyoka
Kindly receive our Silver jubilee roses
This is the day that the Lord has made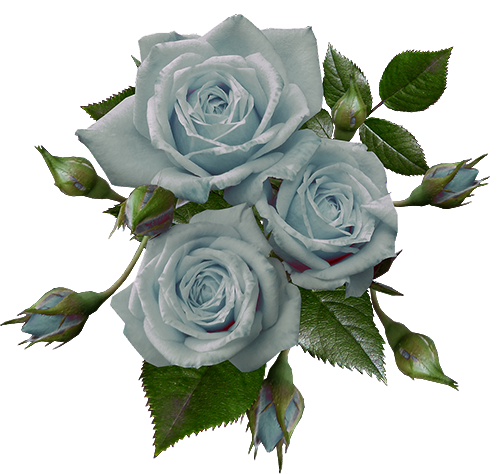 We rejoice and are glad in it
To celebrate Silver Jubillee
With jubilation and exultation
Kindly receive our Silver Jubilee Roses
A thousand miles begin with a mile
A mile by a mile with a joyful smile
Twenty-five years down the line
On twenty third May, nineteen ninety-eight,
You resolutely took the first step
Of following the Lord, never to look back
Kindly receive our silver jubilee Roses
This is Kitui Diocese, Boma Parish Kabaa station
with a vision and a mission
To spread the word of God,
To serve the Lord and to serve the church
In the Ursuline congregation
Kindly receive our silver jubilee Roses
The Lord your God called you
and you heard the call
He will never forget you
Receive our tributes and gratitude
For the work you are doing
With patience, persistence and perseverance
Kindly receive our Silver Jubilee Roses
The catholic faith is getting stronger and stronger
With people like Sr. Roselyne Kasyoka
A daughter of Kabaa
We are proud of you
God bless you our Roses
Kindly receive our silver jubilee Roses
GRATITUDE!