Pilgrimage group from Slovakia
02/08/2023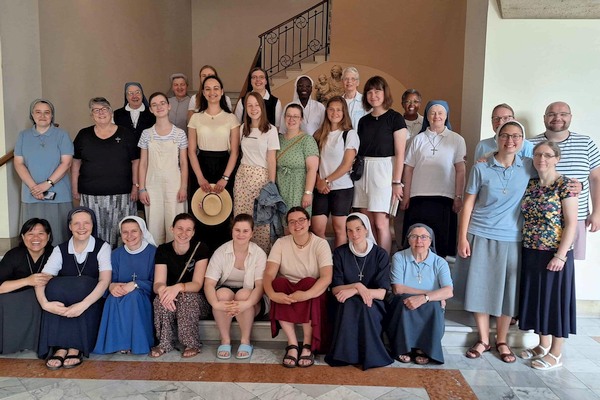 ROME - BRESCIA - DESENZANO
From 20 to 25 June 2023, a youth pilgrimage in the footsteps of St Angela took place, organised by the Ursulines from Slovakia. We were happy to welcome them also to our Generalate.
On a Tuesday evening, not knowing what was ahead of us, our pilgrimage group met at the convent in Bratislava, so that we could depart for Rome in the early hours of the morning. Symbolism was clear right from the start: this group was joined by exactly eleven young women. That is the identical number to that of St Ursulaˈs companions. We were led by four of our sisters and by Father Jakub Garčár SJ.
We arrived at the Generalate in the Eternal City on Wednesday evening. The Sisters welcomed us very warmly. We began with the holy mass, where all of us were invited to become cheerful givers, since God loves such people (2 Corinthians 9, 7). After a much needed supper some of us decided to explore the beauties of this city.
On Thursday we visited three of the four great basilicas of Rome – St Peterˈs Basilica, St John Lateranˈs Basilica, and the Santa Maria Maggiore Basilica. We also renewed our baptismal promises. Although we visited several pilgrimage sites, on the spiritual level we were deeply satisfied. We came back to the roots of our faith through the first martyrs and and also had a taste of Ignatian spirituality (Del Gesù).
The Friday morning was filled with goodbyes. Sister Maria Rita, especially was saying goodbye after her almost 8-month-long stay here (more about her experience in the Slovak language here). We said goodbye to sisters in the Generalate and the General Council, and we also briefly met the Novices. Despite the fact that we spent only two days in the Generalate, we felt a very heart-warming and home-like atmosphere. So, we would like to express our thanks to our sisters for all their care.
On Saturday, on the Feast of St John the Baptist, we visited the House of St Angela in Desenzano, where we met the local community of sisters and could get answers to our burning questions regarding St Angela Merici. Well, it was a lot to ask of Sister Armida, but nevertheless she managed to quench our thirst. During the homily we were pondering the question from the gospel of St Luke: "What then will this child/girl become?" (Lk 1, 66) This question was surely asked by many of Angelaˈs contemporaries and many of them were just shaking their heads.
We concluded our pilgrimage on Sunday with holy mass at her tomb. The high point of the ceremony was our sisters' renewal of their vows.
In conclusion, undertaking a pilgrimage to St Angela Merici is a transformative and spiritually enriching experience. Through this pilgrimage, we are encouraged to carry forward the legacy of St Angela Merici. As the sun shone upon us and we all got a nice bronze tan, we let ourselves also be shone upon spiritually. St Angela certainly left her mark in the hearts of each one of us.
The article on the Slovak Ursulines website
Julka and sr. Jana Pavla OSU