Contemplating our path
25/11/2020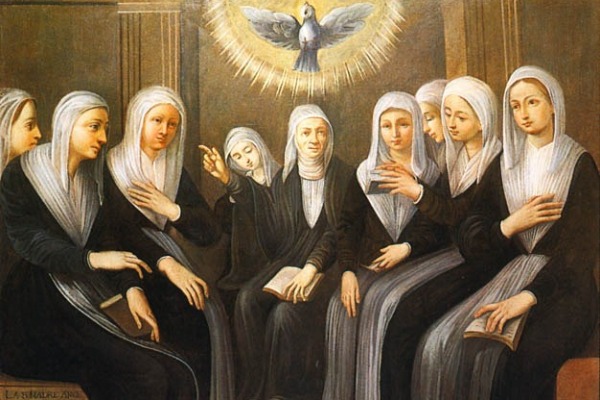 The journey of a thousand miles begins with a single step (Lao Tzu)
This last week of November offers an important moment of reflection for us as Ursulines of the Roman Union. The special days during this week provide the opportunity to consider again the gifts that we have received because we are daughters of St Angela, women of her Company, and members of the Roman Union – this Global Community.
On 25th November – Foundation Day, we remember the small, local event that took place in Brescia in 1535 – 485 years ago, an event which gave birth to the Company of St Ursula. We recall the twenty-eight women with Angela Merici whose names were registered in 'the Book of the Company', as a sign of their commitment to God and to each other. While some of these names are recorded, many others have been lost through history. However, the spirit which they embodied, and which we have inherited has not been lost. The word 'Company' reminds us of the centrality of relationship in Angela's vision – these women were to be 'companions'. Mary-Cabrini Durkin reminds us of the implications of this word coming from its Latin origins – cum and panis - with and bread. The early members of the Company shared companionship; they were a group of women who shared bread and the daily experiences of life. From the beginning, supportive and respectful relationships were central to Angela's vision. (Mary-Cabrini Durkin Angela Merici's Journey of the Heart. Pg 49).
Just three days later, on 28th November, we mark Roman Union Day, that day in 1900 on which pontifical approval was given for the formation of a union of 62 houses of Ursulines from across the world. They came together in response to the urging of Pope Leo XIII. However, the seed of the union can be thought of as the collaboration between the monasteries of Blois, Rome and Calvi during the last twenty years of the 19th Century, a collaboration born of a desire to support each other.
From its beginnings, the Roman Union brought together women from monasteries and communities whose founding stories were different, whose way of life and traditions were diverse. And yet it is clear that they had a strong desire to support each other, regardless of their differences, and often through difficult struggles and misunderstandings.
In the years following the Second Vatican Council, when Religious Congregations were encouraged to return to their origins and to ground themselves in a deeper understanding of the spirituality and charism of their founders, Ursulines across the world discovered in a new way the source of the strong bonds that united them. p/p>
Today, each one of us knows that spirit deep in our beings. We recognize each other as sisters through the life we inherit from Angela – Madre Suor Angela. Something of her spirit is embedded in the spiritual DNA of each one of us! As we celebrate these special days of remembrance, we have so much for which to be grateful.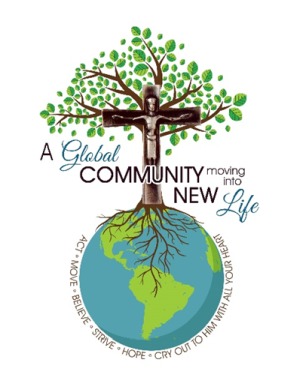 What we carry in common encourages us to build our 'Global Community'. The differences of our lived realities and our diverse cultural, social, and ecclesial experiences ensure that such an undertaking is not a simple task. However, while different in their quality, the challenges we face are no more daunting than those faced by Angela and her first companions, or by the first members of the Roman Union. Together we can draw on the spirit and example of so many strong women , our 'ancestors in the faith'. And we hold tenaciously to the hope that our efforts will allow the 'new life' we long for to continue to emerge, as it has since Angela's first glimpses of her vision in the fields of Brudazzo.
Thinking of ourselves as a Global Community aligns us with the thinking of Pope Francis as reflected in his recent encyclical letter Fratelli Tutti, addressing all people of goodwill … 'brothers and sisters all'. In this new social encyclical Pope Francis develops his earlier teaching that, just as we are interconnected with everything in 'our common home', so also as humanity, we are deeply connected, we are all in relationship with each other.
We speak of ourselves as a 'global community' trying to bring together the universal and the particular. In this way we can challenge the idea of boundaries and borders, the growing and often divisive nationalism we see in today's world. I have long believed that, as an international organization of committed women, we have the opportunity to make a significant contribution in the world … to leave the imprint of our charism on the world –the imprint of Angela's spirit of love, respect and esteem.
In Fratelli Tutti, Pope Francis speaks of fraternity. I like to think of this as 'kinship', an alternative way of describing our relatedness. Kinship implies that we claim descent from a common ancestor, that we share a common bond, that we are related in deep and lasting ways. Kinship expresses the fact that we are united, as humans, across boundaries of race and nation and language, across differences of culture and religion. An understanding of our kinship urges us to respond generously as 'neighbour' to others. Pope Francis suggests that in the Parable of the Good Samaritan, Jesus 'asks us not to decide who is close enough to be our neighbour, but rather that we ourselves become neighbour to all.' (FT 81). This subtle change in thinking can open up new and challenging perspectives. Similarly, considering those in the world who are 'my kin', can stretch my understanding of how I am called to respond with generous care. It can urge me to ask how I might be an agent of change so that more of 'my kin' have access to what are considered the basic necessities of life.
Pope Francis also reminds us that 'We need to pay attention to the global so as to avoid narrowness and banality. Yet we also need to look to the local, which keeps our feet on the ground.' (FT 142). To be neighbour to those of our kin who we do not know, we must first be neighbour to those with whom we share life most closely, our own sisters in our communities and provinces. In this context, I find particularly helpful Francis' thoughts on 'Recovering Kindness'. He says 'Often nowadays we find neither the time nor the energy to stop and be kind to others, … Yet every now and then, miraculously, a kind person appears and is willing to set everything else aside in order to show interest, to give the gift of a smile, to speak a word of encouragement, to listen amid general indifference. … Kindness ought to be cultivated... Precisely because it entails esteem and respect for others, once kindness becomes a culture within society it transforms lifestyles, relationships and the ways ideas are discussed and compared.' (FT 224)
Let me suggest that as we remember these significant days of our history this year our prayer and celebration might be marked by three things
a sense of profound gratitude for all that we have received together
a renewed commitment to the relational qualities that we learn from Angela – companionship, kindness, esteem, respect and love
a belief that we are called to strengthen our interconnectedness - our kinship - both in local and global spheres, as a transformative and life-giving contribution to our world.
As we approach the end of this year we remember especially the provinces and communities in which sisters have died as a result of CoVid19, and where these and other sisters have not been able to be farewelled with the usual funeral rituals. There are many communities where sisters are still becoming infected and then struggling with the lasting effects of this virus.
We are about to enter the Season of Advent, those weeks that so beautifully express the human reality of waiting, longing and hoping. Each year at this time we acknowledge again that we are not complete, that there is always something missing from our lives until we welcome the Word Incarnate.
This year, we bring to this time of waiting our shared experiences of isolation and quarantine, of illness, weakness and grief, of vulnerability, uncertainty and disconnection. Into this reality we pray Come Lord Jesus...'
And yet we also bring signs of promise, of new possibilities, new connections and new encounters. Into this reality too, we pray together Come Lord Jesus …'.
Rome, 23 November 2020
Sue Flood osu