Integral Ecology
16/02/2021
Latifa – a model of a path to human fraternity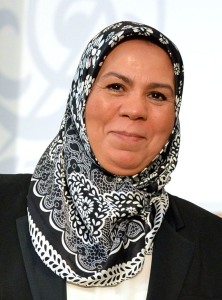 LATIFA IBN ZIATEN – Receiver of 2021 Zayed Award for Human Fraternity, together with António Guterres, the 9th UN Secretary-General.
The Zayed Award for Human Fraternity is given to the people who inspire others to create human fraternity for a peaceful world. It is named the Zayed Award, to honor the founder of the UAE, the late Sheikh Zayed who united the seven Emirates and which led to a peaceful life.
The award to Latifa is an acknowledgement to a courageous and resilient mother who has never given up.
Latifa was born on 1st January 1960 in Tetouan, Morocco. At the age of 17, she moved to France, to join her husband, a railway worker in the national SNCF network.
Her life as a housewife and a mother changed on 11 March 2012. One of her sons, Imad Ibn Ziaten, a military paratrooper, was murdered by a terrorist, Mohammed Merah, in front of his barracks in Toulouse. In the beginning, she could not accept that her son had died. She said to herself that Imad was still alive. She dreamt three times of her son, who said to her, "Mama, get up. I need you". Latifa said, "He died standing, so I need to stand strong". She went to meet the murderer of her son and found that Merah was raised up in a tough neighborhood and experienced violence. Latifa rose above the pain of losing her son and created the IMAD association for youth and peace on 24 April 2012.
The living testimony she conveyed on the first International Human Fraternity Day was as follows: "I overcame my wound, went out to the society to protect the youth. I want to talk to them about peace and love. You need to protect the youth with good advice. This is not only the responsibility of parents, but also of schools, the state, and the city mayors. Everyone has this responsibility." She exclaimed, "Stop filling the heads of the youth, let them grow up normally!".
She created an association to help young people, fighting discrimination and injustice. She dedicated her life to spreading tolerance and fighting extremism through spending time in poor neighborhoods, prisons and mosques to overcome violence and hatred. She can see her son in this association that she named IMAD, the association in honor of him.
Many people gave witness to Latifa's contribution: Latifa always has a smile for everyone. She is a star lighting up the sky for those in need. She is an eye, ear, and heart for young people. A witness said, "Latifa helped me to find new values". Another person said, "I always learn something from her, for example, to learn how she is listening".
Latifa said, "Any young person in need of something, I will help them. I lost a son, but now I reach out to many children. I am a second mother for many children that I saved in the detention center, in homes, in schools, so that they do not fall into hatred".
In a very convincing way, she said, "If we can break the barriers in our hearts, we will find our place in society and we will all be brothers and sisters. But we must really break the barriers. It is very important". "Thank you from the bottom of my heart for this award. This helped me to continue my fight for love and tolerance".
Spontaneous appreciations from the two leaders who signed the Document on Human Fraternity of World Peace and Living Together in Abu Dhabi (4th of February 2019):
Grand Imam Ahmed Al-Thayeb said: "You are a grand model of the world".
Pope Francis said: "People learn from you, the path of fraternity".
I am moved to share the story of Latifa as a call to build our future world that is peaceful, tolerant, and to accept others as brothers and sisters. Love overcomes hatred. When there is love, there is forgiveness, and there will be new life. Can we also be able to become a bridge of reconciliation and fraternity in our family, community, life and working environment, as well as in the society in the context of our respective lives?
07.02.2021 ALC
References: