Reflection corner
26/05/2021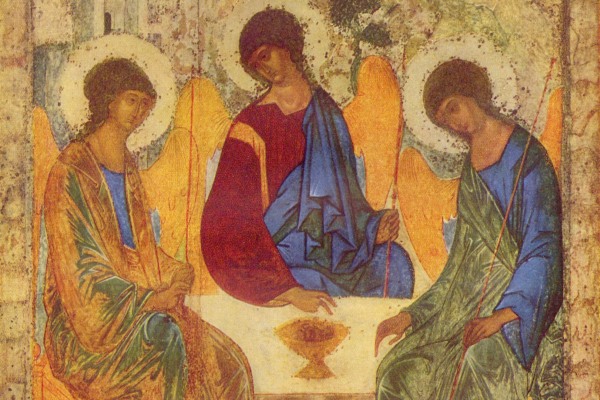 Solemnity of the Most Holy Trinity
The mystery of God in the Holy Trinity exceeds our capacity to know. God in his greatness and mystery is at the same time one who is infinitely close to us in love. St Mary of the Incarnation, an Ursuline, mystic and missionary, speaks of this in her letter to her spiritual director.

Letter 2 - St Mary of the Incarnation
Vision of the Trinity: the mutual captivity of love and the familiarities permitted to the loving soul.
From Tours to Dom Raymond of St. Bernard, Feuillant. End of 1626.
Drawn by the vision of the three Divine Persons, my spirit was so absorbed that I cannot express it. It was so sudden that in an instant I understood much. For me the vision was all of love, my soul remaining glued to its object, inactive unable to use its own powers, or do anything but submit to the Will of the Object that held it, now in admiration, now in adoration. But love that is never at rest and cannot subsist in itself so charmed my soul that it forgot so to speak the majesty of God as far as respect is concerned, but did not forget the vision. I mean that inflamed with love, it could see nothing but love. Its eyes rested on the person of the Word, the object of its passionate love that ravished and captivated its heart with such sweet charm that I cannot express it in words. It was the captive of Love, but as well Love (i.e. the Spouse) was its captive by a mutual return of union and embraces. He alone knows the colloquies of her who holds Him thus embraced and who receives His overflowing love in a sweet exchange.
I became conscious of this great familiarity and felt some inclination to draw back through respect, but instead of ceasing, the rapture increased and I cried out: "O my divine Love, you yourself cause me to be so daring with You. I know that You are my great God, but You are also my great love and You show yourself to my soul in a way that is so charming that love gets the better of the respect I owe You and I find it impossible to do otherwise, because You carry me away, and I want to obey You, which is reasonable because You are love".
Note: Letter Two may be an extract from the same document as letter one. Both are given only in the "Life". The words in brackets may be an explanation inserted by Dom Claude.
Kelly, Sr. M. St. Dominic, O.S.U. Marie of the Incarnation 1599 - 1672 Correspondence, (translated from the French edition by Dom Guy Oury Monk of Solesmes), Irish Ursuline Union, 2000, p. 1– 2.