Looking back. Short stories from the Archives
10/10/2023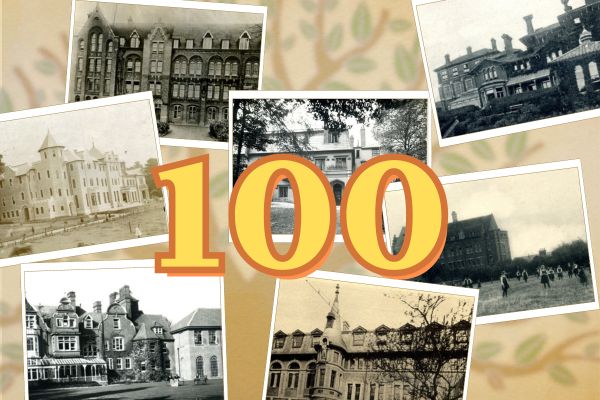 View all - Looking Back
Happy centenary Province of England!
1923 - 2023
The Ursuline sisters first came to England in 1851, but were unable to find a suitable house for their needs either in London or Oxford. They returned a few years later, in 1862, and, with the help of their good friend Fr James McQuoin, found stability at Grove House in Upton (now Forest Gate), where a school for children and a boarding school were soon established. Even today, St Angela's School educates young people throughout East London.
The Ursuline educational methods and spirit were greatly appreciated and sought after, so within a short time the sisters opened convents and schools in Wimbledon (1892), Brentwood, Hythe and Ilford.
| | |
| --- | --- |
| | |
| 1. Crewe convent, [1920], AGUUR, Rn.ANG.02, 1.01 (AGUUR©) | 2. Crewe playing field, [1920], AGUUR, Rn.ANG.02, 1.01 (AGUUR©) |
| | |
| | |
| 3. Greenwich convent, [1930], AGUUR, Rn.ANG.01, 1.01 (AGUUR©) | 4. Greenwich convent and school, [1930], AGUUR, Rn.ANG.01, 1.01 (AGUUR©) |
Shortly after the foundation of the convent in Upton, some Ursulines from Duderstadt, Germany, moved to Greenwich, south-east London, and founded the convent and school of St Ursula in 1877. After the departure of many German sisters, who went to Australia to establish communities and schools, the Ursulines of Gravelines, France, came to replace them.
At the beginning of the 20th century, after being expelled from their convents in France, many Ursuline sisters moved to England and settled in Crewe, Bideford, Thornton Heat (fig. 12), Beaconsfield, to name but a few. In 1904 the Ursulines of Boulogne went to Westgate-on-Sea (fig. 13), Kent, where they settled and founded the present College.
| | |
| --- | --- |
| | |
| 5. Beaconsfield convent, 1910, Rn.ANG.02, 2.02 (AGUUR©) | 6. Beaconsfield convent and school, 1910, Rn.ANG.02, 2.02 (AGUUR©) |
The exiled convent of Rouen settled in Crewe (figs. 1-2) a town that, being a strategic railway hub, offered ample opportunity for expansion. The sisters were fortunate to have a school and convent specially built and financed by friends and families of the French exiled sisters. The foundation was well run and quickly managed to attract a large number of vocations mainly from Ireland and the north of England. As Crewe was a French foundation, it only joined the Roman Union in 1918. The Prioress General, Mother Angèle de Notre Dame Lorenzutti, made a request to the Holy Father in May 1918 that the community of Rouen - rue Morand - which had been reconstituted for the most part in Crewe, be affiliated to the Roman Union. [1]
In 1923, Greenwich (figs. 3-4), Beaconsfield (figs. 5-6) and Bideford (fig. 7) voted to join the Roman Union. At this point, the idea of promoting an English province had become far-sighted.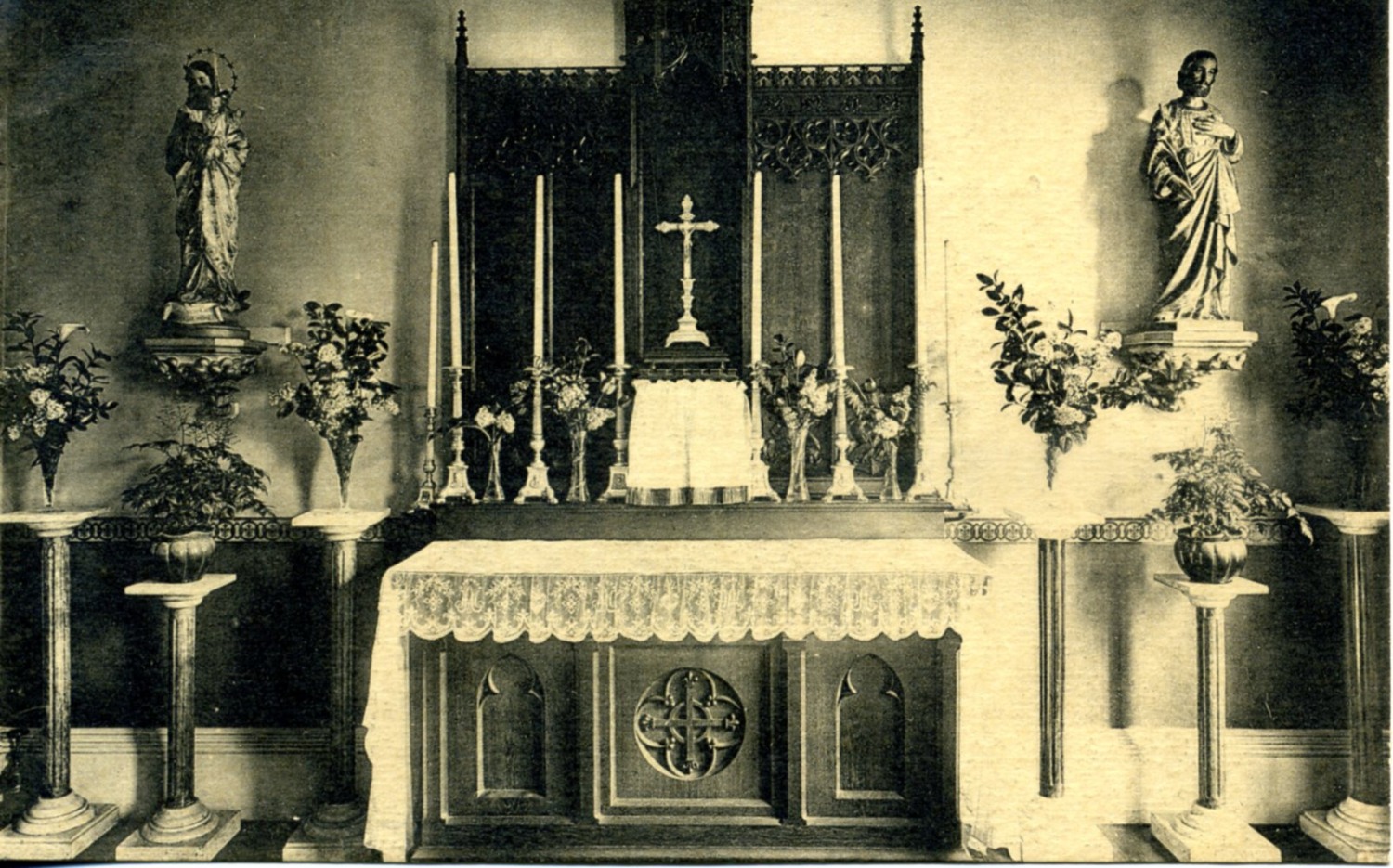 7. Bideford, Ursuline chapel, [1920], postcard, Rn.ANG.02, 1.07 (AGUUR©)
In August 1923 the Sacred Congregation for Religious granted permission to form a Province in England. The French communities, refugees in England, decided to break away from their Mother House to form this Province during the holidays. These were the communities of:
1. Greenwich, Diocese of Southwark, detached from Gravelines, Diocese of Cambrais Lille;
2. Bideford, Diocese of Plymouth, detached from Avallon, Diocese of Sens and Auxerre;
3. Beaconsfield, Diocese of Plymouth, detached from Quimperlé, Diocese of Quimper and Léon;
4. Crewe, Diocese of Shrewsbury, detached from Rouen, Archdiocese of Rouen. [2]
Four years later Forest Gate (figs. 8-9), Wimbledon (figs. 10-11) and Palmers Green joined the English province. These houses had roots in the union of Tildonk (Belgium). The Ursuline community of Brentwood had been founded at Forest Gate in 1900 and had maintained strong links with all the "Tildonk" communities in England.
| | |
| --- | --- |
| | |
| 8. Forest Gate convent, 1925, postcard, AGUUR, Rn.ANG.01, 4.02 (AGUUR©) | 9. Forest Gate convent, west view, 1925, postcard, AGUUR, Rn.ANG.01, 4.02 (AGUUR©) |
The Ursulines have always been at the forefront of education in this country. Over the years they have adapted and undertaken numerous ministries. Their work has taken them to Liverpool, Shotton, Lancaster, Wythenshawe and many other parts of the country. When one hears the name Ursulines one immediately thinks of schools. The educational tradition continues to this day in different parts of the country. Ursuline schools in England are: St Angela's Forest Gate, St Ursula's Greenwich, Ursuline Academy Ilford, Ursuline Preparatory Ilford, Ursuline High Brentwood, Ursuline College Westgate, Ursuline High Wimbledon, Ursuline Preparatory Wimbledon.
| | |
| --- | --- |
| | |
| 10. Wimbledon convent, 1930, AGUUR, Rn.ANG.02, 3.01 (AGUUR©) | 11. Wimbledon convent, side view, 1930, AGUUR, Rn.ANG.02, 3.01 (AGUUR©) |
| | |
| | |
| 12. Thornton Heath convent, [1915], AGUUR, Rn.ANG.02, 1.09 (AGUUR©) | 13. Westgate-on-Sea convent, 1938, AGUUR, Rn.ANG.02, 5.02 (AGUUR©) |
Many Ursuline sisters in England were teachers. Most of them now work to promote justice, peace and the integrity of creation, living and working alongside the poor and marginalised. Some are catechists, spiritual leaders, retreat leaders and work in parishes, carrying forward the desire to live the spirit of meeting and reaching out to others with the intention of seeking their good.
Happy centenary Province of England!
By Emanuela Lauro Ph.D., General Archivist
____________________________________
1. Cf. AGUUR, Fa France Ouest, file 38, Rouen, f. n.n.
2. Cf. AGUUR, Fa Angleterre, file 1, f. n.n.